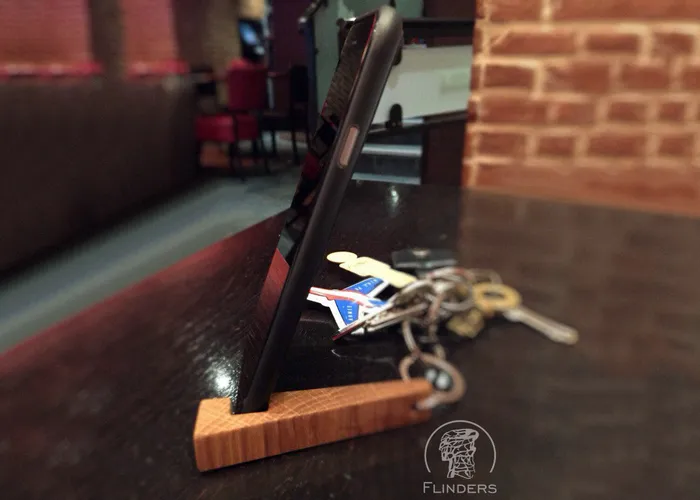 Wooden Keyring for Keys and iPhone 4/5/6/7
15 USD
Keychain + Stand for iPhone, an excellent solution for fixing a smartphone.

With the original keychain for keys, talk on Skype, follow the information and show photos and videos to friends will become much easier and more enjoyable.
A small compact keychain-stand for the phone does not take much space and it can be taken with you wherever you go. A great gift for socially active people.
Change the angle of the phone can be raised and lowering the keychain, to the middle of the gadget.
Functional design from natural wood.
Quality accessories for keys.
Buy for smartphone, you can in our online store.
Additional Information and Package Contents:
Covering / Protection → Eco Oil;
Packing → Branded pouch;
Dimensions of key fob → 77*20*13 mm;
Materials → Wood Oak;
Rings - Steel.
Packing - Branded bag - key case.
FLinders - Woodwork | Wooden Keychains | Accessories | Devices
Other Keychain Options

Free World Shipping 15-30 Days:
USA, Canada, Germany, England, France, Spain, Austria, Italy, Australia, Japan, Denmark, Switzerland, Georgia, Russia, Bulgaria, Greece, Croatia, Turkey, Czech Republic, Slovenia, Portugal, Belgium, Netherlands, Luxembourg, Poland, Lithuania, Norway, Latvia, Estonia, Finland, Sweden, Hungary, Slovakia, Egypt, Saudi Arabia, Israel, Thailand, China, Philippines, Singapore, India....
About product
Contacts: +38093 637 9009
Name : Wooden Keyring for Keys and iPhone 4/5/6/7
Buy : Official price
Compatibility: House, Office, Hotel, Cottage, Hotel, Hostel, Vill
Shipping: World Free Shipping → 15-30 days
Color: Natural Oak