Wooden Packing Ash 150 * 55mm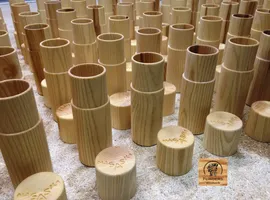 March 6, 2018, 4:52 p.m.
If you want to sell your goods in high-quality and durable packaging, then you need to FLinders-Woodwork. We create wooden packing from Ash. The process is not fast, you need to order in advance. Manufacturing about 2 weeks, it all depends on the quantity.
We brand the wooden packaging, apply the logo.
Packages are treated with special eco-oil for protection when used and for emphasizing the structure of the tree.
To buy wooden packaging, you need to contact our manager and he will help you determine the height and diameter, because there are technical, production points for manufacturing.
FLinders-Woodwork | Practical Packings of Wood | Production in Ukraine