Stand for Smartphone <Easy>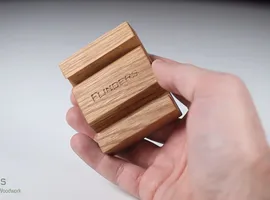 Dec. 16, 2015, 4:02 p.m.
Wooden stand for Smartphone.

An indispensable accessory for a busy person. At home or at work, the phone for convenience simply has to be in its own, prominent place. Stand from natural wood for the smartphone iPhone or Meizu can be taken with you - compact size and light weight is the plus of the product. For perfect stability, the stand is equipped with anti-slip feet. The device can be put on the stand vertically or horizontally, as in a case or bumper and without them. The convenience and simplicity of the stand for the smartphone will greatly simplify reading and watching your favorite movies. The stand is presented in 2 colors - light and dark, oak.
Ideal accessory for a gift. Want to be sure for sure - see the video review of from FLinders. Enjoy watching!

Supported models: Apple → iPhone 4, iPhone 4s, iPhone 5, iPhone 5c, iPhone 5s, iPhone Se, iPhone 6S / 6S Plus, iPhone 7.
Samsung, Meizu, Xiaomi, Huawei, Sony ....

FLinders Woodwork - Accessories for Gadgets.