Kitchen Accessories Chopping Boards | End Board | Exclusive Boards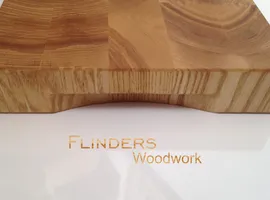 Oct. 6, 2019, 2:52 p.m.
Boards for slicing fruits and vegetables from solid wood.
End boards are made from durable and tree species. We mainly use resistant trees to the mechanical effects of the knife and constant moisture.
The following plants are suitable for kitchen boards:
Acacia, Ash, Oak, Walnut, Cherry, Beech, Mahogany, Chestnut
For one kitchen board we use two types of wood - this is Ash and Oak. This combination looks good in the interior and is very practical to use.
Creating Chopping Boards
In the FLinders Woodwork workshop, material is harvested with further sawing and gluing in special hems.
After the boards are aged and glued together, they are cut to the exact size and fed to the grinding.
Then overtake with a hand tool around the edges to protect against scratches and safe use.
Further, the boards go through manual (finishing) grinding and are transferred for impregnation with special ecological oil.
The impregnation is filled into the micropores of the tree for protection and favorable use so that the boards serve for many years.
FLinders Woodwork - Practical kitchen boards for fruits and vegetables, meat and fish.
Buy Board for Slicing
Buy Exclusive Board

#Boards_for_Meat #Boards_Cutting #Exclusive_Tables #Kitchen_Accessories #Board_for_Tarrels