Doors from Wood | Entrance | Interior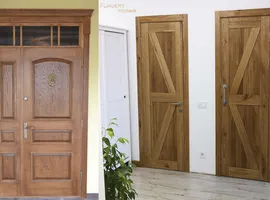 Sept. 28, 2019, 3:57 p.m.
Wooden doors → stylish and durable.
The process of manufacturing doors with installation in Ukraine takes a little time. Below is a brief description of the manufacture of entrance and interior doors, and communication with the Client.
1. Ordering a specialist for an object
The specialist's visit to the facility where detailed communication with the Customer takes place, where all possible nuances are discussed and the door model is selected from the proposed options or from the provided photograph of the Client.
All kinds of consultations on questions - When can I take the sizes of door leafs? and at what stage should they be installed?
2. Measurements
When you have decided on the door design, accurate measurements are taken of the doorways where the doors will be installed.
3. The choice of fittings
Of course we give recommendations where you can buy door furniture (handles, hinges, wraps, locks, glass) and also provide the opportunity to choose the option of the Customer.
4. Prepayment
After taking measurements and choosing the door style, the Customer makes an advance payment of 70% of the total order amount.
5. Price and Production Time
The price and terms of order execution depend on the number of door leaves, the width of the door frames, design and additional elements (method of fastening the platband, crowns, milling)
6. Box Accessories
All accessories are installed in the woodworking workshop and are tested for operability.
7. Inspection Assembly
We make control assembly and test all doors for closing and opening. We install a sealant and check the operability of all elements.
8. Grinding and Preparation for Painting
For the news, the manufacturing stage, the wood elements undergo several polishing, and after the control assembly, fine polishing.
9. Painting, Varnishing, Impregnation
There are several options for protecting natural doors:
impregnation with special oil;
stain coating;
color tinting;
protection of door blocks with ecological varnish.
All decoration is carried out on the territory of the workshop.
10. Installation of Doors
At the appointed time, we deliver and install door leafs, door frames, fix platbands.
It is possible to refuse the installation if there are personal specialists and there is someone to do the installation.
11. Payment After Installation
The customer pays the amount of 30% of the order.

FLinders manufactures affordable modern doors and luxury doors for: private homes, apartments, restaurants and cafes, hotels, hubs and coworking centers, office buildings and office buildings.
FLinders Woodwork - Wood Products / Practical Designs.
Delivery in Ukraine:
Kiev, Odessa, Dnepropetrovsk, Lviv, Rivne, Ternopil, Chernivtsi, Chernihiv, Dnipro, Mariupol, Lutsk, Sumy, Ivano-Frankivsk, Krivoy Rog, Zaporizhia, Kharkov, Donetsk, Nikolaev, Lugansk, Vinnitsa, Kherson, Poltava, Cherkasy, Khmelnitsky , Zhytomyr, Uzhgorod, Ternopol .... and settlements of Ukraine.