Box for Tea. Cylinder Box. Wooden Treasure Box | Wood Case Tea | Nuts. Spices, Coffee.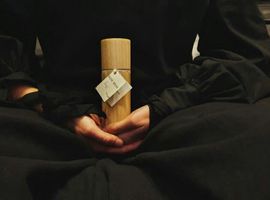 Nov. 23, 2020, 10:09 p.m.
We Started to Produce Wooden Packaging for Tea, Coffee, Spices, Nuts and Dried Fruits.
The idea was to create an airtight and practical packaging box for home use and travel. Also, the packaging must be strong and last for many years. It was also based on tactility and Environmental friendliness.
And this is what we managed to create.
The packaging is in the form of a Cylinder with a tight-fitting lid.
All edges are rounded for safe use in the kitchen and when traveling.
Stable.
The tube is impregnated with ecological oil on a natural basis. Simply put - eco plant oil to extend the life of the product.
Speaking of cylinder life, it is not limited.
We use all the products presented on our website ourselves, we test them for functionality in everyday life. If the product meets our needs and we see that it is practical and convenient → then we start putting it up for sale.
We have been using these cylinders for about 4-5 years for different mixtures of tea, nuts, dried fruits and seeds, and for salt and small spices we have a smaller model. You can find them in the Store section
Who else orders?
People buy from us for their personal needs, for a gift and for their Clients.
Ecoshyk fills our tubes with its aromatic teas and sells them as a package. Nice tea in a Nice package.
Alisasila uses tubes for storing jewelry and serves as gift wrapping for its Clients.
Let's go back to our cylinders.
Storage
When the top cover is closed, air comes out of the cylinder - this is very good for storing the mixture.
Travels.
When you lift the package by the top cover, nothing will fall out, everything is done tightly enough. It is not difficult to open and close, while the mixture inside does not spill out :)
By the practicality of the transfer, you can safely pour seeds or pine nuts and take them with you into your backpack for a short or long trip.
Storage volume
With these 5 cylinders, you can store 5 varieties of Chinese tea, or Portuguese :)
Each package can hold about 70-120 grams of tea. It all depends on the shape and type of tea.
How much can you store in wooden cylinders when it comes only to food and drinks that are stored in the kitchen?
Dried fruits;
Teas;
Whole bean coffee ;
Ground coffee;
Nuts;
Spice;
Sugar;
Salt;
.........
FLinders Woodwork - Wooden Storage Cylinders.
We offer quality goods.
You can buy here
Delivery 15-35 days.
When ordering a product from 20 pieces or more, the production time will slightly increase.
It is also possible to order Branding. There is a Service of Engraving and Laser on products.